Physical Therapy Fletcher Chiropractic
The first stage of the chiropractic approach is known as passive care. During this time, our goal is to deliver customized adjustments to reduce pain and inflammation.
The second stage of a corrective program is called active care. This approach involves specific exercises combined with adjustments. Our goal is to optimize spinal stability, improve posture and reduce the possibility of re-injury. We want our patients to be able to perform at an optimal level.
Who Can Benefit from Rehabilitation?
Almost anyone can benefit from therapeutic exercise. It's been our experience that a majority of patients have weak core muscles. Weak musculature leads to injury, imbalance and dysfunction.
We see many practice members suffering from low back injuries, neck pain, upper back pain, knee pain, and hip and shoulder instability. Postural abnormalities are also common.
The patients of Fletcher Chiropractic are given the opportunity to be a member of our highly- regarded posture program. The program involves attendance on a once a week basis for eight weeks. A Doctor or Physical Therapist will work closely with you to make sure that you achieve the right degree of postural change.
Comparative pictures in front of a grid are taken at the beginning of care, and at the midpoint and endpoint. The visual changes are uniquely apparent; the end result is rewarding.
We often send patients home with specific exercises to carry out during the week. The exercises are designed to help you with your unique areas of instability. The more compliant you are, the greater the result.
Some of the equipment we use includes
Stability balls : The use of stability balls helps to develop good muscle tone for the entire body. They help to rehabilitate back, knee and hip injuries, while improving core stability, posture and muscle balance.
Resistance bands : Resistance bands tone, strengthen and stretch muscle tissue.
Wobble boards : Wobble boards improve balance, functional strength and mental focus.
Physical Therapist Shawn Mains, PT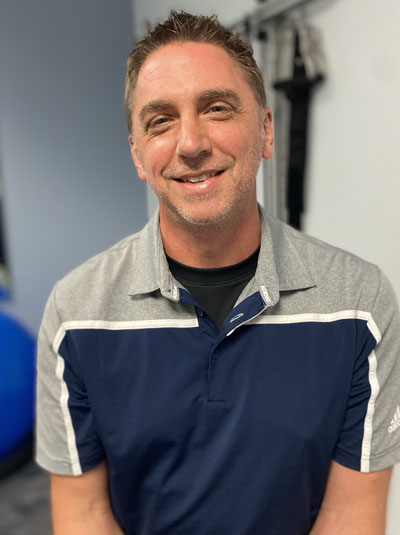 Shawn joined Fletcher Chiropractic in 2021 with over 25 years of clinical experience in physical therapy.
His expertise is in low back pain, neck pain, extremity injuries, sprains/strains, post-surgical and active rehabilitation. He is specially trained in the McKenzie Method.
Shawn has 5 children with his wife, Stacy, and truly walks his talk by living a holistic and wellness lifestyle!
He enjoys time outdoors spent with his family when he's not helping patients in the office.
Make an Appointment to See Us Today
Everyone can benefit from therapeutic exercise. Not only will you look better and feel stronger, but you'll be protecting yourself from unnecessary injury. Contact our Oshkosh office today and let's get started!
CONTACT US »

Physical Therapy Oshkosh, Neenah, Black Wolf, Omro, Winneconne WI | (920) 230-2800